The DeFi space is evolving rapidly, and with an ever-growing number of DEXs, there comes an issue with having efficient liquidity to manage demand. That's where DEX aggregators come into play.
DEX aggregators aim to bring liquidity back to the user and give them the best possible routes for their token swaps.
Read on to learn more about DEX aggregators and the best ones available to use today.
Our picks for the best DEX aggregators:
What is a DEX aggregator?
A DEX aggregator is a decentralized exchange that pulls liquidity from various DEXs on a blockchain to find the best path for a token swap.
With an aggregator, you can trade multiple assets across a wide range of DEXs and get the lowest fees and slippage possible, thus getting the best outcome for your swap.
How does a DEX aggregator work?
DEX aggregators connect different decentralized exchanges, collating the liquidity data and the prices for multiple assets. The aggregator then uses an algorithm to analyze the data and choose the best execution path for traders.
When using a DEX aggregator, the trade request is divided into small orders and distributed to different exchanges for the best prices. Thus, there's low slippage, and users can take advantage of the best and most affordable prices.
Some DEX aggregators also offer features like price alerts, market data analysis, and advanced trading tools that help traders make informed trading decisions.
Let take a look at some of the best DEX aggregators around ????
Which is the best DEX aggregator?
DefiLlama is a popular DeFi analytics dashboard with various tools, with the Meta-Aggregator being one of its more recently launched features.
DefiLlama's Meta Aggregator is the "aggregator of all aggregators," as it doesn't aggregate DEXs but rather DEX aggregators.
The majority of other aggregators mentioned on this list like 1inch, CoW Swap, and Matcha are integrated into this Meta-Aggregator. With zero fees and the ability to swap across 21 chains, it's a clear winner when it comes to being the best DEX aggregator.
Features
No charges for swapping: DefiLlama doesn't charge any fees for swapping on the aggregator. As a trader, you'll get the same price as what you'll get when swapping through the chosen exchange.
Compatible with 21 chains: DefiLlama's Meta-Aggregator is compatible with almost all chains. Hence, traders will have access to new chains in one place.
Privacy mode to prevent IP exposure: With the opt-in privacy mode, which doesn't store IP data, users can use the aggregator without connecting their wallets and prevent IP exposure.
Approval control: Other aggregators ensure traders give infinite approval, which is quite dangerous – especially if the aggregators are susceptible to hacks. But with DefiLlama, traders have control over giving constant approval for all trades or approval for the current swap.
Similar to DeFiLlama, CoW Swap is also a "Meta" DEX aggregator. Built on top of the CoW Protocol, CoW Swap pulls liquidity from any on-chain AMM or DEX aggregator on Ethereum and Gnosis.
CoW Swap uses a Coincidence of Wants (CoWs) mechanism that allows for direct swaps between two traders that are holding the assets the one wants, resulting in a cheaper execution price.
Features
Protection from MEV: MEV means Miners' Extractable Value. It's the profit miners, validators, and sequencers get during the exclusion, inclusion, or re-ordering of transactions on the blockchain. However, some validators are known to delay transactions with low gas fees and approve these with higher gas fees first.
It leads to front-running and back-running such that traders lose money every day. Therefore, CoW Swap is taking the lead in solving MEV issues and protecting traders from them.
Zero fees for failed transactions: Unlike some DEX Aggregators that charge for failed transactions, CoW Swap does not.
Scalability & Transparency: CoW Swap executes orders simultaneously without a glitch. Incubated by Gnosis, the protocol is designed by trustworthy engineers who are transparent and security compliant.
Batch, match, search, and settle: CoW Swap uses cutting-edge technology that collects transaction batches every 30 seconds, matches as peer-peer, searches for the proper exchange with low prices, and settles.
1inch Network has different tons of different products, with its aggregator being the center and main driving point to the protocol. 1inch has one of the most extensive aggregators in the DeFi space, and it's popularly called the "leading DEX aggregator."
1inch's aggregator works across 10 chains, including Ethereum, BNB, Polygon, Optimism, Arbitrum, Gnosis, Avalanche, Fantom, Klaytn, and Aurora.
Features
Protection from harmful liquidity pools: As one of the leading DEX aggregators, 1inch verifies the runtime of transactions on any exchange. Hence, users won't lose funds if they come in contact with a harmful liquidity pool.
Pathfinder: Pathfinder is an aggregation information tool that finds the best trading prices across several exchanges within seconds. It's compatible with ten different Blockchain networks, and users can save up to 40% on gas costs.
1INCH token: 1inch has a multi-chain token (1INCH) on Ethereum, Near, BNB, Energi, Harmony Shard 0, and Polygon. It's the governance token to the 1inch Network protocol and can be used to achieve high-efficiency routing throughout 1inch's Liquidity Protocol. 1INCH currently trades for $0.554384.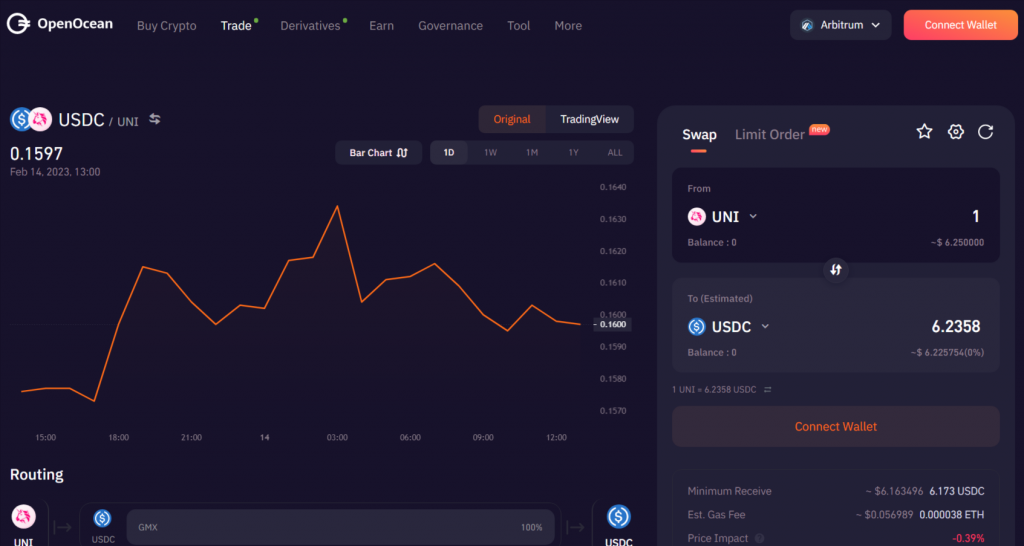 OpenOcean is an all-in-one decentralized trading network that houses one of the most popular DEX aggregators and offers swaps across 19 chains.
Supported chains include Ethereum, BNB, Solana, Polygon, Avalanche, Fantom, Arbitrum, Optimism, Cronos, Aptos, Moonriver, Aurora, Harmony, Gnosis, Boba, Ontology, Tron, Heco, and OKC.
Features
Cross-chain swaps: With OpenOcean's cross-chain swap features, traders can smoothly swap tokens across any supported chain without needing to bridge.
Limit Order: OpenOcean has a limit order that allows traders to place an order to swap at a specified price rather than the market price.
OOE Token: OpenOcean has a native token (OOE) on Polygon, Ethereum, Ontology, BNB Chain, Avalanche, and Fantom. Users can stake OOE to participate in protocol governance and the gas refund program. OOE currently trades at $0.02720.
Intelligent developed algorithm: OpenOcean has a developed algorithm that facilitates the swapping routes across different liquidity pools and exchanges while considering slippage and fees.
ParaSwap DEX aggregator is a tool that provides traders with the best market rates across a wide range of liquidity sources, allowing for swap, transfer, limit, and OTC trades.
ParaSwap has support for several chains, such as Ethereum, Optimism, Polygon, Avalanche, Fantom, Arbitrum, and BSC.
Features
PSP token: ParaSwap has a native token (PSP) on Ethereum, Polygon, BSC, and Fantom. The PSP token can be used for governance and staking on the protocol. PSP currently trades at $0.039987.
Paraswap Pool: ParaSwap Pool allows users to access the private Market Makers pool as a liquidity pool for faster transactions. With the pool, all transactions made with ParaSwap are achieved at the best prices.
Zero fees: It's free to use ParaSwap, although users will have to pay the Ethereum fees for each transaction.
Multipath: Multipath works by searching various exchange routes during transactions, interacting with Automated Market Makers and lending platforms to get the best rates for swaps.
Matcha, powered by 0x, aggregates all DEXs simultaneously whilst giving a clear overview of all fees & costs associated with trades.
Matcha supports Ethereum, BSC, Polygon, Avalanche, Fantom, Celo, Optimism, and Arbitrum.
Features
Simple UI integration: To satisfy traders, Matcha is designed with an easy-to-navigate UI. It's simple to use, friendly, and approachable to users.
Liquidity aggregation: Matcha aggregates liquidity sources from different exchanges like Curve, Kyber, Oasis, Balancer, Uniswap, etc., to provide suitable trading rates to users.
Gasless Trading: Traders don't have to pay a gas cost to trade on Matcha. So they can avoid potential slippage and MEV attacks easily.
As a multi-chain DEX/Bridge aggregator, users can swap tokens across 50+ blockchains (including Bitcoin). Rango Exchange sources liquidity from over 100 DEXs to find the best prices for trades and has one of the best user experiences when compared to other aggregators.
Features
Multichain swapping: Rango makes it easy for traders to swap tokens on a chain or from one chain to another. Thus, the tokens in Rango are usually in different networks, and traders will have to choose the one they want.
Routing: Rango uses routing to get the best exchange and path for your trade. It can work with various intra-chain and inter-chain to get the best prices.
RANGI token: Rango Exchange has a native token, RANGI, which is used to reward early supporters of the project and used in voting and creating polls. It's not currently trading or available for sale.
Firebird Finance is another DEX aggregator with unique utilities. The protocol allows traders to swap, save, and earn seamlessly.
Firebird supports Ethereum, Fantom, Cronos, Polygon, BSC, Avalanche, Arbitrum, Optimism, and Canto swaps.
Features
Cashback: As a unique aggregator, Firebird Finance has a cashback feature for traders. Traders can earn the native token ($FBA) when they swap transactions on Firebird. Then, they can stake the $FBA to earn passive income on the protocol.
Referral: Firebird has a referral utility whereby each referral comes with a bonus on successful transactions. However, there are two requirements to earn this bonus- a user must use your referral link or your connection to the Firebird API while swapping.
FBA token: Firebird has a native token (FBA) built on Fantom. FBA currently trades at $0.00002952 and is used to reward traders and can be staked for incentives.
1Sol is the leading cross-chain DEX aggregator on Solana. 1Sol sources liquidity from both CeFi and DeFi across several chains to allow for seamless and efficient swaps on Solana.
Features
Smart Calculator: 1Sol uses the calculator to find the best route for the transaction and compare the prices to choose a suitable one.
1SOL token: 1SOL is the native token of this best DEX aggregator and can be used for staking on the protocol. 1SOL currently trades for $0.00566.
Blockchain Aggregator: 1Sol envisions aggregating everything built on the Blockchain. Some include NFT trading, the CeFi market, swaps, lending & borrowing, etc.
Frequently asked questions
What is a DEX aggregator?
A DEX aggregator is a decentralized platform that makes trading easy by giving seamless access to liquidity pools – with better prices and little or no fees.
What is the best DEX aggregator?
The best DEX aggregator will depend on how much you trade, where you trade, and the token pairs you desire to trade.
What is the best DEX aggregator for Fantom?
The best DEX aggregator for Fantom depends on where you want to trade, although ParaSwap is quite suitable.
What is the best DEX aggregator for Solana?
The best aggregator for Solana depends on where you want to trade, although 1sol is quite suitable.
What is the best DEX aggregator for Polygon?
The best aggregator for Polygon depends on how much you wish to trade, but 1inch is a perfect option.
What is the best DEX aggregator for Binance Smart Chain?
The best DEX aggregator for Binance Smart Chain depends on your budgeted slippage; however, 1inch is a great choice.
What is the best DEX aggregator for Arbitrum?
The best DEX aggregator for Arbitrum is 1inch.
DEX aggregators are here to stay
Undoubtedly, DEX aggregators are the go-to tools for getting the best prices and liquidity across different chains. Meanwhile, knowing the best DEX aggregator is essential for optimum results. We recommend going through each of the aggregators mentioned and doing your own research before jumping in.